The newest addition to Walt's Organic Fertilizer Co.
is Walt's Organic Library!
It is officially registered with Little Free Library, a nonprofit organization whose mission of building community and inspiring readers reaches worldwide.
"Walt's Organic Fertilizer Co. wants to connect with our local community and help promote literacy by sharing garden and nature books for kids and adults."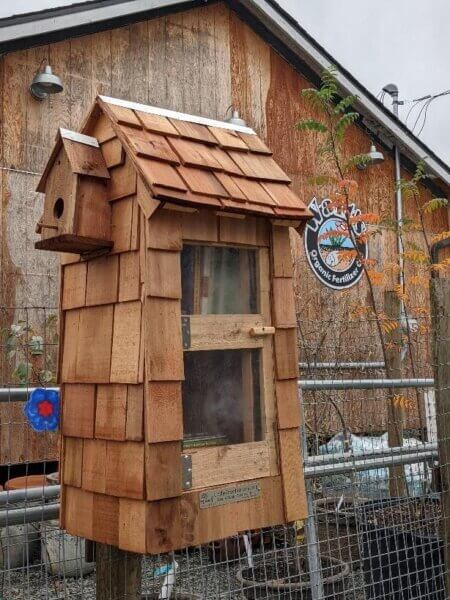 Our little library is handcrafted using leftover materials and features a cozy reading room for the neighborhood birds. Next time you are at the shop picking up some compost or perusing plants be sure to take a look and grab a book. Books that begin their journey in our library have a Walt's Organic LLC Free Little Library stamp inside their cover.
You can help build our library community by donating books you are finished with. Books about gardening, pollinators, and nature are our favorites, but we welcome whatever you have to share. A daycare center is one street away, so adding books for kids will certainly be a delight.
While free books are a treasure, our garden shop has a fantastic collection of books for sale too. Tucked on shelves and nestled under potted plants, you will find nature-inspired poetry books, guides for eco-living, and more. We recently added blank journals and field notebooks to our shelves.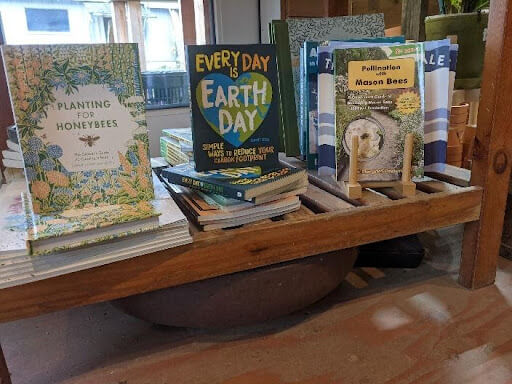 Two of our most popular books are Cass Turnbull's Guide to Pruning and Tilth Alliance's Maritime Northwest Garden Guide.


Cass Turnbull was the founder of Plant Amnesty, a nonprofit dedicated to ending mal-pruning. The Walt's Organic landscape crew follows Cass Turnbull/Plant Amnesty's pruning guidelines.
The Tilth Alliance is a nonprofit that works with local farmers, gardeners, and vegetable consumers to create a sustainable, healthy, and equitable food future.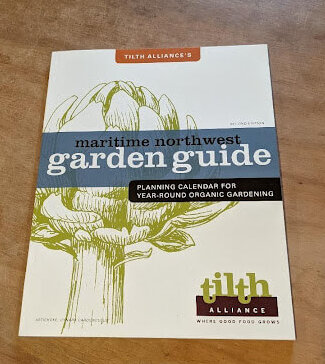 Their Maritime Northwest Garden Guide provides valuable calendar format information on what vegetables, flowers, and herbs to plant each month of the year (as well as other useful organic gardening information). The guide is meant for gardens in the region from Vancouver, B.C. to Roseburg, Oregon, and from the Cascade foothills to the pacific coast.
---
Our shop's book options are not limited to grownups; we also carry books for the younger gardeners in your life. You can find several of Martha Day Zschock's board books as well as picture books for elementary-age kiddos. Ask the shop staff to show you what we have or explore on your own; you are sure to find something you love. Our collection of books is ever-changing, so be sure to take a look often.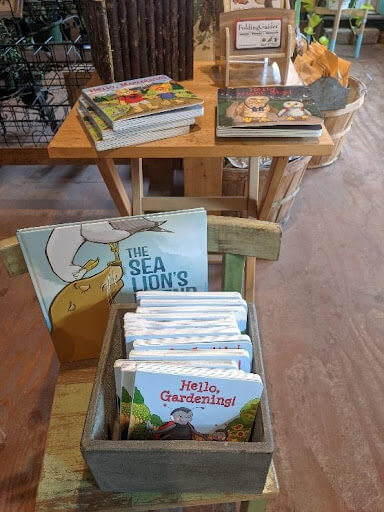 Although we do sell some wonderful literature, there is a limit to how many books we can cram into the shop; there does need to be room for the plants and tools. Here are a few titles worth sourcing from your local independent bookstore (Seattle Met has a great guide to Seattle's Independent bookstores).
Braiding Sweetgrass by Robin Wall Kimmerer

Gathering Moss by Robin Wall Kimmerer

Lawn Gone by Pam Penick

Nature Obscura by Kelly Brenner

Practical Permaculture by Jessi Bloom & Dave Boehnlein

Real Gardens Grow Natives by Eileen Stark

Sustainable Gardening by Vincent Simeone

The Ecological Gardener by Matt Rees-Warren

The Hidden Half of Nature by Anne Biklé and David R. Montgomery

Waterwise Plants for Sustainable Garden by Scott Ogden & Lauren Springer Ogden
Books are a wonderful source of knowledge and inspiration. Whether you need help with a specific issue or are trying to hone your green thumb, you can always turn to a book.
"If you have a garden and a library, you have everything you need." – Marcus Tullius Cicero
Although Walt's Organic is all about the plants, we are book enthusiasts too. Please stop by the shop soon to spruce up your garden or bookshelf; we can't wait to see you!
Walt's Garden Shop is currently on Winter hours
(November through January):
Thurs & Fri 10-6 and Sat 10-4 
(And our little free library is always open!)