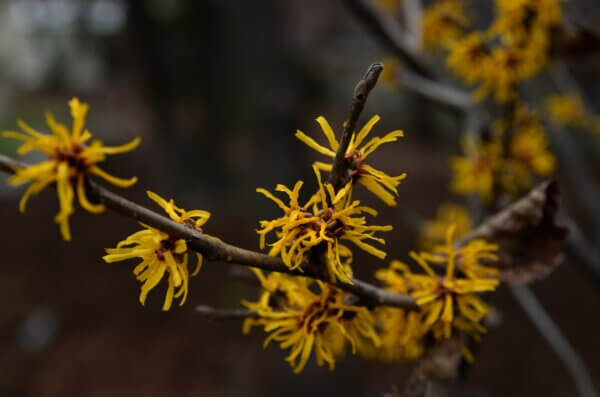 Photo by Laura Ockel on Unsplash
Witch-hazel is a magnificent plant. There are several different species that have been cross-pollinated to create a plethora of cultivars, each with subtly unique growth forms and flower color.
Big-Leaf Witch-Hazel (

Hamamelis ovalis

) – Native to North America

Ozark Witch-Hazel (

Hamamelis

vernalis) – Native to North America

American/Common Witch-Hazel (

Hamamelis virginiana

) – Native to North America

Japanese Witch-Hazel (

Hamamelis japonica

) – Native to Japan

Chinese Witch-Hazel (

Hamamelis mollis

) – Native to China
Growth Form: Shrub/Tree (10-20ft)
Soil Preference: Well-Drained, Loamy, Acidic
Sun Preference: Full to Mostly Full Sun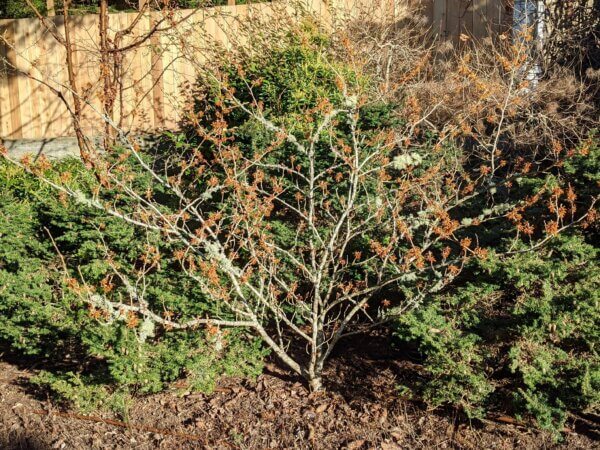 A great way to incorporate witch-hazel into your yard is to plant it in front of dark evergreen trees and shrubs. During the winter, witch-hazel loses its leaves, so the color of the evergreens will show through. When flowering, the solid evergreen background really makes witch-hazel's colorful streamer-like blooms pop.
The North American witch-hazel species bloom in the fall, with their peak bloom in October or November. The Chinese and Japanese species begin blooming in winter and early spring (January to March). No matter which species or cultivar you plant, it will bring cheerful color to your space during the drearier time of year.

Ethnobotany
The name "witch-hazel" comes from the Middle English word for bendable, wiche. The branches of the plant were used for dowsing, also known as water witching. Whether or not you can find water using this plant, witch-hazel does have properties that seem downright magical.
The bark, twigs, and leaves can be used to create tinctures, teas, compresses, and distillates (what you buy in the store). Witch-hazel is used as an astringent and for its anti-inflammatory and mild antibacterial properties. Native Americans use witch-hazel as a medicinal herb for both internal and topical ailments. Although there are no readily known side effects to using witch-hazel, it is always best to consult a physician before using it as a medicine.
Learn more about witch-hazel's medicinal uses and folklore from Chestnut School of Herbal Medicine.